I recently had the opportunity to check out a few pieces from the Ogio Alpha Convoy line. Ogio built this collection of durable backpacks, luggage, and add-on pieces to withstand the test of time with sustainable fabric and durable construction. In this post, I'll discuss the Alpha Convoy 525 backpack, and in the future, I'll detail my experience with the small carry-on suitcase.
Alpha Convoy 525 backpack
First, I tried the Alpha Convoy 525 backpack, while traveling and also while hiking in Boulder. I tested this out with both soft and the hard attachable pouches. It feels like Ogio made the Alpha Convoy line for organization freaks like me! Everything comes in modular pieces. I love this because I'm a Virgo – I find it much easier to travel when I am super organized! The backpack has plenty of pockets, zippers, and compartments where you can stash different things. On my trip, my boarding pass fit neatly in the small outer pocket, and my cell phone in the hard clip-on pouch. The backpack also features a big interior pocket, two smaller interior pockets, and a padded, separated flap where you can store your laptop. The straps, body, trim, webbing, and zipper pulls feature reflectivity for maximum visibility day or night.
Backpack details
The backpack felt comfortable when I had it loaded with various things. An incident with my designated dog sitter occurred the night before an early flight. So, I ended up bringing him with me unexpectedly. Fortunately, he fit perfectly in the main compartment of the backpack. He looked comfortable and happy. The adjustable shoulder straps with the chest strap felt comfortable to me, despite the extra ten pound canine load I was carrying. The backpack also has two side water bottle pockets, a luggage pass-through, loads of internal organization including a key clip which came in very handy, a large zippered top stash pocket, and a padded comfort top handle.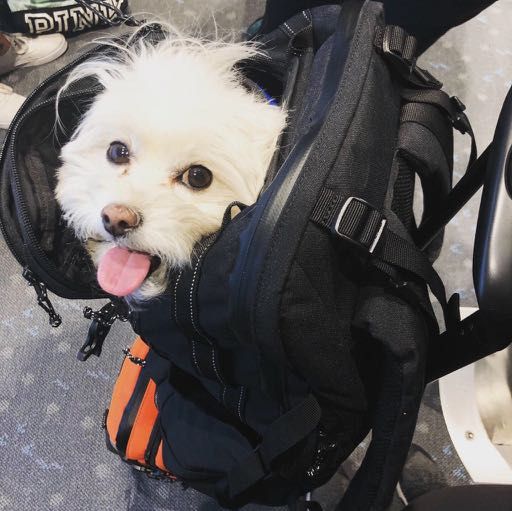 Work or Play
The Ogio Alpha Convoy 525 backpack has a dedicated 15" laptop pocket. This allows for quick access while bag is in the overhead compartment. Outside the bag, 2 rows of Internal OGIO MOD webbing allow you to customize storage with a Convoy compatible MOD Hard Case or Soft Pouch. I used both; I found the hard case useful for sunglasses that I don't want to get crushed, and the soft pouch for my dog's food and collapsible water bowl.
In addition to all of the compartments, I also love the eco-friendly fabric called Cordura-Eco (recycled polyester) which makes up the bags. The manufacturer specifically engineered these yarns to meet the fabric performance and durability specifications Ogio demands. This fits well with Snowgrrl's "kindness" focus. Not only do you get super organized with all of the compartments in these bags, you also have a light impact on the environment while traveling light!